Good morning, friends! I know I've been missing in action for the past several weeks (reno madness...gurl!), but I just couldn't miss the opportunity to pop in and help introduce my good friend
Heather
's very first stamps with
Taylored Expressions
. She has a couple of different collections debuting this month and they are both totally wonderful. Her graduation collection is super handy for anyone that has several celebrations to attend in the coming months. Those banners have so many uses for birthdays and other occasions though as well.
But today, I have the pleasure of sharing Heather's
Simply Stamped - Feathers
collection with you! These feathers are organic and just a little bit rustic which I absolutely love. There are a few different pattern options to dress them up or you could use cool watercolor or blending techniques to give an even more loose and earthy appearance. Ok, I've yammered on plenty. Let's get on to some projects!
My first card incorporates the
Feathered Stencil
and some splatters behind a trio of brightly colored feathers.
I love the texture the
Feathered Stencil
gave my Toffee background. The black speckles tie together the card base and sentiment while the white ones bring the stitching and feathers into the fold. The greeting, from
Wild & Free
(a new sentiment set also coming out today), is stamped in Oreo ink.
I used the large feather from
Simply Stamped - Feathers
along with all of the pattern overlays for this trio. On the left in Blue Raspberry and Sprinkles is the dotted pattern. In the center with Peapod and Lime Zest is the solid overlay. And the feather on the right, stamped with the chevron stripes, is Guava and Pink Champagne.
I love how natural and funky this card feels. Coincidentally, this would also make a really nice graduation card if mortar boards and tassels aren't your thing.
My next card is a stamped background. I know, you're totally surprised. It's not like stamping a background is one of my favorite things or anything. Ha! But seriously, thanks to the many size and style options, the
Simply Stamped - Feathers
set is really great for creating a unique and interesting background.
I used both sizes of feathers in Oreo, Blue Raspberry, and white inks. I just randomly stamped the feathers until I was happy with the arrangement. Then, I embossed the
Wild & Free
sentiment using white powder.
I thought mounting that panel onto a white card base really made the greeting pop. I used just a 1/8" border, but it was plenty of border to make a big impact.
Then, I just added a sprinkling of clear rhinestones in a variety of sizes. I love using two or three sizes of stones together so there is more visual interest than using one consistent size. And these stones are so sparkly!
My last card today, I did a bonus project because I just couldn't stop!, incorporates a little bit of a rainbow. Having a stamp platform makes using multiple colors on the same stamp a breeze, but you could use markers to do the same thing in one impression.
I used Guava, Candy Corn, Pineapple, Peapod, Blue Raspberry, and Lavender Glaze for the rainbow on my chevon stripes. The smaller feather is Earl Grey and Oreo together. I thought keeping the smaller feather neutral really made the larger feather stand out and coordinate with the sentiment a bit.
I used one f the circle images from the feathers set to create a partial background on a Sea Salt card base (stamped in the matching ink). I'm a big believer in partial backgrounds. You don't need to cover the whole card base to make a statement.
I also blended a super soft, subtle layer of Sprinkles ink onto my focal panel before stamping the sentiment and adhering my feathers. It isn't much, but it adds to the atmosphere of the panel. The little twine bow is just a great way to soften up the edges a bit and give a natural feel.
Thank you so much for joining me today as we all celebrate
Heather Nichols
' product debut with
Taylored Expressions
! Heather's designs have always caught my eye and I'm absolutely positive I'm not alone.
Have a great weekend, friends! And if you want to follow along with our reno antics, feel free to check out my Instagram Stories. I have a highlight there that's full of video snippets throughout the process. Hopefully I'll be able to get back in my studio soon, but in the meantime there is plenty of fun home progress to share.
Supplies:
Dare To Dream Card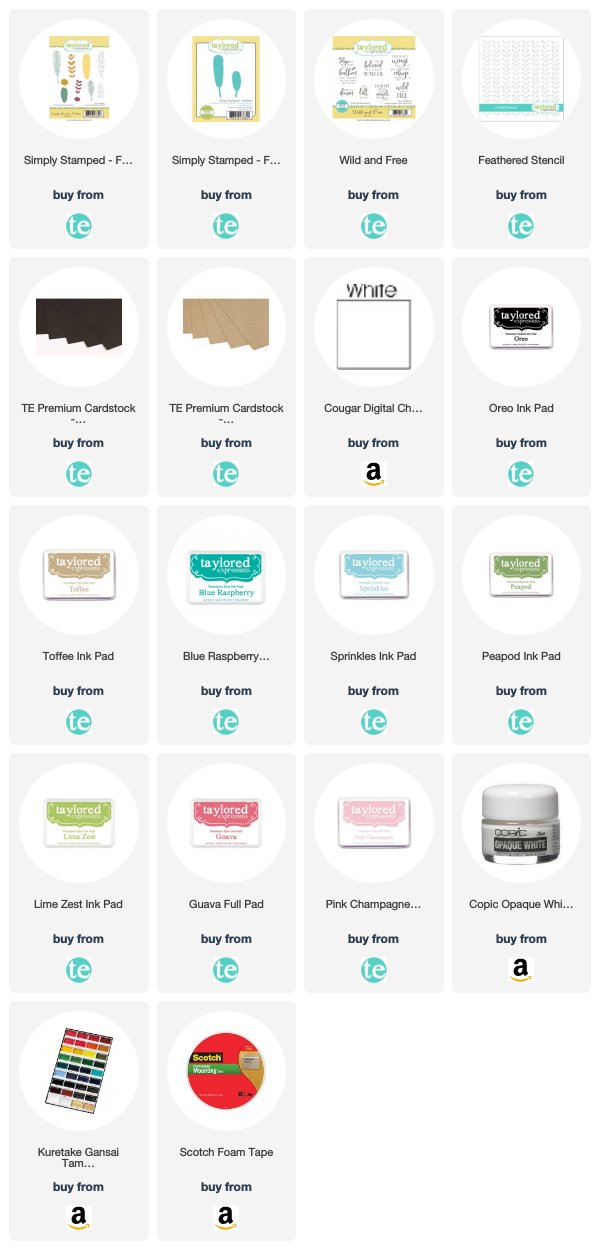 She Believed Card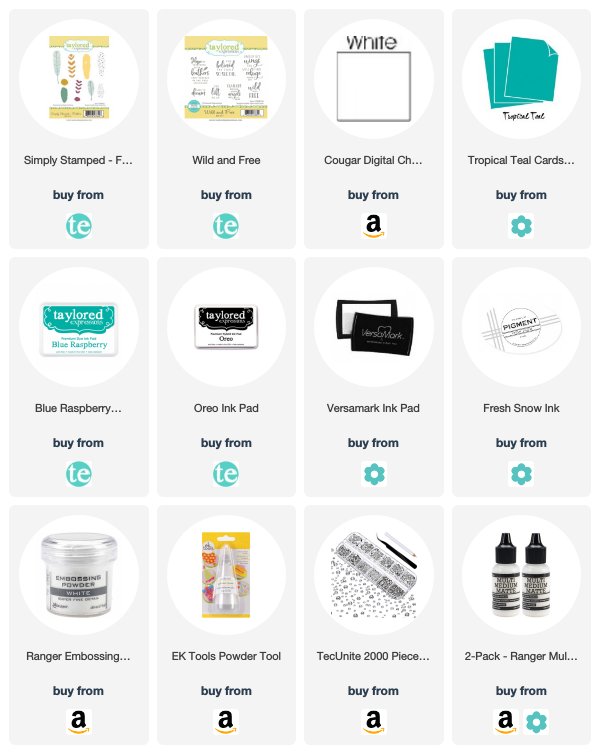 Wild & Free Card