Did you enjoy yesterday's Gift Guide post? Well, now that we've gotten through all the tools it's time to get to the really fun stuff...the stamps! I've broken my stamp suggestions into categories to make it a little bit easier to handle. And just a reminder about the thought process behind my selections:
1. I wanted to choose stamps that were simple and didn't have too many layers or tricky bits that may frustrate someone without as much stamping experience.
2. I also tried to avoid any stamp sets that require a die to get the most from the set. While it may sound bananas to create a gift guide without including dies, I really don't think they're necessary for a beginner. Let them ease in. Too many tools and options at once leads to crafty overload.
3. The stamps I'm sharing all come from Papertrey Ink. I work for Papertrey and I have for several years, so I know that when you buy from them you're getting a high quality product at a great value. That is not to say that there aren't other wonderful companies out there. I'm just sharing what I know.
4. All of the links and thumbnails I'm including on this post are for your convenience. They are affiliate links, but (should you choose to make a purchase) that in no way impacts the cost of your item. It does, however, support me and my ability to create posts like this one for you! And everything I'm sharing, affiliate or not, is something I genuinely love. I wouldn't be sharing it if I didn't.
Ok. That's enough of that. Let's get to the good stuff! By the way, I'm not listing any of the stamps in these categories in a particular order, they're all great!
Let's start with sentiments. You can go far with a few fabulous sets of sentiments at your disposal.
The
Penned Elegance
stamp set is an outstanding collection of handwritten greetings. The sentiments are a very versatile size and the script can be dressed up or down depending on the imagery you pair with them.
The Keep It Simple series is a favorite of mine, for sure. The
Thank You II
,
Birthday II
, and
Thinking Of You
editions are three that I reach for all the time. These are also occasions that could be most useful for beginners.
Botanical Bounty Sentiments
is another all-occasion set full of handwritten greetings. The style of this set is a little more casual and fun with a super contemporary twist.
If your beginner is just someone who likes to stay in touch,
Big Hugs
may be just the set for them. It's full of heartfelt messages and they take up a good bit of real estate on a card which may take a little pressure off of filling up a
whole
card.
The Sentiment Staples series is another series of minis that I love (admittedly, partly because I designed them). The
Thank You
,
Sending You
, and
Birthday
editions are all super useful and at only $5 each they give you a lot of bang for your buck.
Never Enough Thanks
is perfect for anyone who may be keen on creating their own thank you notes. You can mix and match the individual stamps to build a greeting that truly conveys your perfect message.
The Ways To Say series is another amazing way to get several different varieties of the same sentiment in one set. The
Thinking Of You
and
Hello
sets are two of my favorites.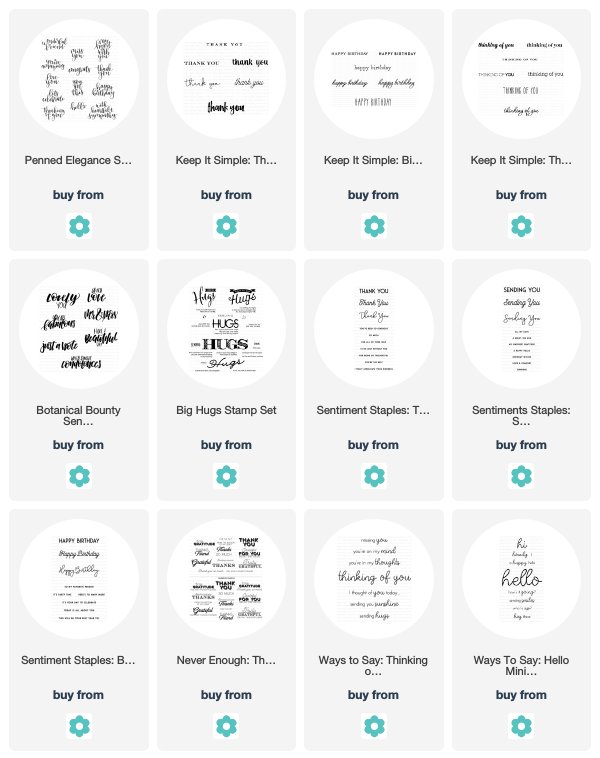 Let's move on to flowers. There are so many flower sets out there trying to narrow it down could make your head spin! Hopefully this little round up helps a bit.
Botanical Bounty
is designed to help you create a watercolor floral look on your stamped projects. Not only is it on trend, but it's classically elegant so it won't easily go out of style. And it has a loose, free flowing style without any specific layers, so it's very forgiving. Plus, there are leafy elements that can be used on masculine projects.
Rosie Posie
has a modern vibe that brings up graphic print fabric. Not only are there flowers in this set, but there's a cool hexagon background that can be used all on its own, too!
If you're looking for a really cute, all purpose floral set look no further than
Gran's Garden
. There are layering stamps included in the set, but they're not necessary to make the flowers work. The layers are ideal for when a beginner feels like they're ready to take on a new challenge (plus, they're fairly easy to line up).
Gathered Garden
has the look of flowers foraged from a prairie. It's a little more delicate and some of the images are multi-stamp, but they're pretty forgiving. This one also includes several lovely sentiments.
Tulips are a quintessential Spring flower and the
Tulip Time
set embraces them beautifully. This one also has layers, but again, they're fairly forgiving. And the sentiments in this set are a generous size which is a nice feature.
Simple Stems
and
Vogue Vases
go together like peanut butter and chocolate. The flowers are two-step, but they're super easy to stamp and they can be stamped to create little bouquets. The vases can also work with other floral sets once your beginner's collection grows.
The last set in this category is
Mum's The Word
. I've always loved this set with its unique blooms. Mums come in almost every color under the sun, so the design options are endless!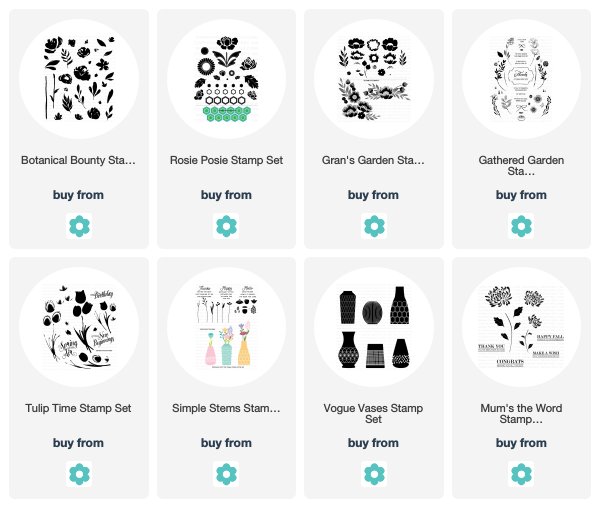 Birthdays are one of the main reasons that so many of us make cards. Here are a few birthday stamp sets that I think are great for people just starting to build their collections.
Birthdays just wouldn't be nearly as fun without balloons and streamers which is why
Birthday Balloons
and
Hooray
are definitely on this list. Birthday Balloons has options for patterns and super cute curly strings. Hooray creates a festive backdrop for large-scale sentiments or the aforementioned balloons. You really can't go wrong with these sets.
Initial Sentiments: Birthday
is a modern set full of variety. The greetings can go feminine or masculine depending on how they're used and there's an option for nearly any design style.
Paper Clippings: Birthday
features a three-tier cake, balloons, and a cheerful birthday banner. These images build together to create a really fun focal point or they can be used separately to create all kinds of designs.
If your beginner has a wry sense of humor the
Offbeat Birthday
stamp set might be right up their alley. The set includes quirky greetings for celebrating birthdays for loved ones of all ages.
Wishes Come True
is a nice, simple birthday candle set. Some candles are two-step while others require one single impression. The set also includes a handful of sentiments that pair nicely with this and other sets.
Who doesn't love cake for a birthday?
What The Doodle: Piece Of Cake
is a cute little mini that would be perfect for anyone who likes to color or would like to try paper piecing.
Ombre Sentiments: Birthday
is a terrific sentiment set, full of really useful greetings set in a modern style. It's nice to have a variety of greetings for major occasions like birthdays and this set totally delivers.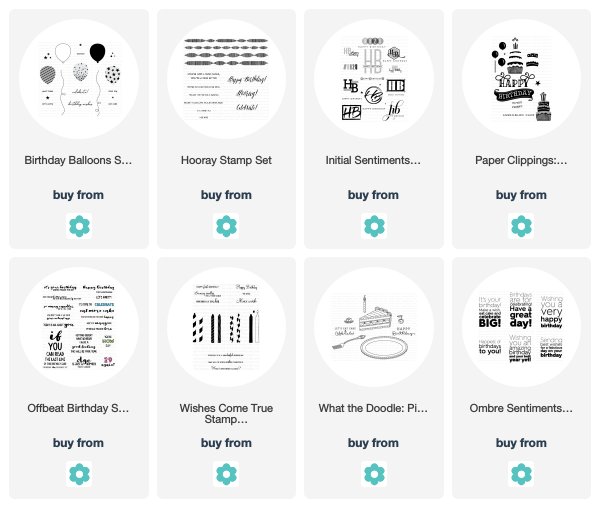 Let's move on to winter holiday stamps. Admittedly, my focus tends to be on Christmas and most of the sets on this list reflect that focus. But I did try to include a couple of sets that weren't specific to a designated holiday.
Pen & Ink: Christmas
is a lovely sentiment set with handwritten style. The greetings are nicely varied in size as well, which makes this set useful for cards or packaging.
I wouldn't necessarily say
Enchanted Forest
is strictly a holiday set, but it's perfect for holiday scenes. It's also wonderful for masculine projects or nature scenes.
If your beginner is drawn to building a bouquet of holiday foliage,
Spruce & Sprigs
is on the "must have" list. The images are a really versatile size and the set includes a nice selection of textures and shapes to keep things interesting.
Brilliant Baubles
embraces beautifully decorated ornaments so often seen this time of year. This set includes everything you need to create a pretty scene with seasonal florals, foliage, and a greeting to boot! Ornaments are separate from the toppers, but they are fairly easy to line up.
If you're fond of knitwear this time of year,
Warm & Fuzzy
is right up your alley! The stockings can even double as regular knit socks if your beginner already happens to be well-versed in the fiber arts. This is a set that can be used long past the holiday season for winter birthdays as well.
There are few images as classic as Santa's reindeer and
Dash Away All
has one such reindeer ready to take flight. The set also includes snow flurries and a unique block of text for more design options.
Polka Dot Parade #9
is a mini set that's just too cute not to mention. The adorable tree looks great in traditional green, unconventional rainbow, or even bright red. The patterns give interest and at $5 you're getting a great value.
'Tis The Season Sentiments
is a set of greetings set in a playful, unique style. The set hits all the highlights from "Merry Christmas" to "Let It Snow." There are some Christmas specific greetings and others that are more generic to give you adaptability for your entire mailing list.
Silver White Winters
is another set that is useful well after the holiday decorations are packed away. It is delicate and sophisticated and truly gorgeous. And the wispy snow flurry images can be used for other things as well. Think steam from a coffee mug or a trail from a butterfly.
Christmas just wouldn't be the same without cookies and
Sweet Holiday Wishes
has you covered! I love that these cookies are so easy to stamp and tons of fun to decorate. Imagine glitter sprinkles...
Another classic Christmas image is the set of slightly tangled twinkle lights found in
Corner Adorner: September
. The individual bulbs give flexibility on how many colors you can incorporate on your strand of lights. And as another mini set, the $5 price tag is nice for keeping the budget in check.
And finally, you can't go wrong with
Penned Elegance: Christmas
, drawn in the same beautiful handwritten script as the original (that I mentioned earlier).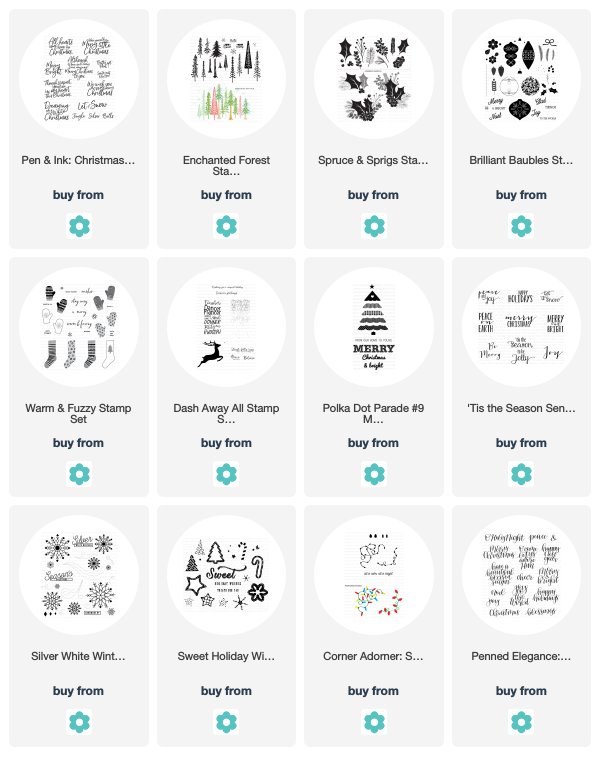 Masculine cards can be tough, so having stamps designed with dudes in mind can be helpful. Here are a few of my favorite masculine sets.
King Of The Grill
is a hamburger themed set that allows you to cleverly build your greeting on a sesame seed bun. Add as few or as many toppings as you like to suit the man of the hour. The layers are incredibly forgiving for someone without much stamping experience.
Does your burger need a beverage on the side?
Craft Brew
is prepared with a pint of lager, ale, or pilsner. There are unique, punny sentiments that can be stamped directly on the pint glasses or used independently to make any beer aficionado's day.
Dapper Chap
is full of bow ties to keep your dudes looking sharp. There is a second step (a detail image to give the bows some definition), but it's super easy to line up and shouldn't give a new stamper any trouble.
The brilliant
Heart & Sole
stamp set includes both an athletic shoe and a work boot to cover a good portion of the male population. And while several of the sentiments are geared toward men and dads, there are plenty of greetings that simply speak to facing a challenge or accomplishing goals, so it would be great for the women in your life too. Again, these images are multi-step, but the lining up is really forgiving for a new stamper.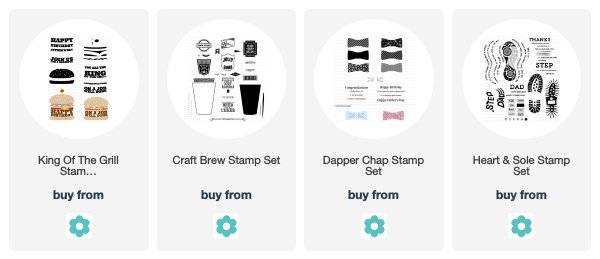 Lastly today, I'm sharing a few of my favorite nature stamp sets. Nature sets can come in handy for masculine cards, sympathy cards, or seasonal projects.
First up, I'm sharing
Twig Wreath
. This wreath can be stamped multiple times to make it appear more full and can work for nearly any season depending on the colors you choose.
Butterfly Blooms
features a beautiful resting monarch that can be colored or left alone depending on the style you're trying to achieve. The flowers can be used to complement the butterfly or stamped independently to get more milage out of your set.
Beautiful Berries: Spring
could maybe be considered a tad bit too advanced to land on a beginners list, but I decided to go ahead and add it because I've found it fairly easy to line up. The berries themselves are really unique and fun to embellish with glitter or Glossy accents.
The
Turning A New Leaf
stamp set is perfect for pairing with the small flowers found in some of these other sets to create a botanical background or frame a sentiment. The design is clean and simple which lends itself to a variety of styles. The largest image may require a large block though, so be aware of that before giving it to someone who may not have a block big enough to accommodate it.
Whether you want Spring or Autumn foliage,
Leaf Prints
is a great set - just switch up the color to get more life out of it. The largest images are two step, but they line up easily for less experienced stampers.
And last but not least, I present to you
Give Love
. The birds are charming and their two-step construction is really forgiving. The branches have built-in woodgrain texture to give simple cards plenty of dimension and there are leaves and flowers that can be used to create arrangements around a sentiment.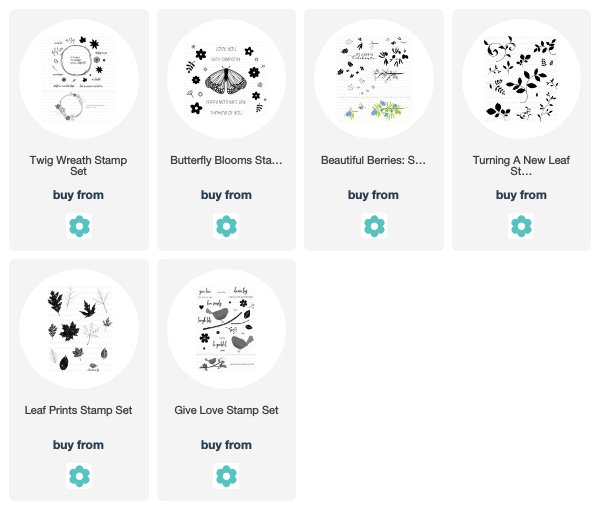 I hope you've enjoyed this Gift Guide! It was really fun to put together and really think about how I would introduce someone to this fun hobby. Let me know if you like posts like this and if you'd like to see more of this sort of thing. Have a great day and I'll see you back here tomorrow with my Stitching Focus post!