Good morning, friends, and welcome to this week's Festive Friday! We're getting down to the wire now, folks! There is only one Festive Friday after this week. So today I have a couple of pairs of tags to share with you today (full disclosure: there were three of each, but a poorly placed baby wipe killed one of each. Boo!) Since there were only two survivors of each of these styles, I decided to share both today.
First up, I have some shaped shaker tags I made with the Hard Candy Christmas set from Ellen Hutson.
These may look complicated, but they're actually pretty simple. I stamped and die cut the front jar and backed it with a clear cardstock die cut before setting it aside. Then, I die cut folded cardstock so that the shape formed a tent. On the inside I stamped my "to:" and "from:" (I forgot to photograph the insides, but I used the same set as on the other tags from today).
On the outside of the tented bit, I stamped the peppermint from Hard Candy Christmas multiple times. I just did some very simple masking to keep them from overlapping. Then, I assembled my shaker using foam tape, chunky crystal glitter, and a few snowflake sequins. I topped the jar with a banner die cut stamped with a greeting from the same set.
The other tags are ridiculously easy, but I love how clean and simple they are. I die cut the tags from white cardstock and then stamped them with the ribbon stripes from Gift Card Cozy Sentiments (a set I designed a couple of years ago). I added the "to:" and "from:" from the same set.
Then, I stamped and die cut the bows and attached them with foam tape. I embellished each bow with a faux nailhead to look like the knot of the bow. It's a small thing, but it adds just enough shine to make it pop. A little crochet thread for tying and these were done.
Well, that's all for today! I hope you've enjoyed this week's Festive Friday post. I'll see you back here again next week for a final installment! Have a great weekend!
And if you've missed it, I have a post over on The Greetery's blog today, so be sure to check that out too!
Supplies:
Candy Jar Shaker Tags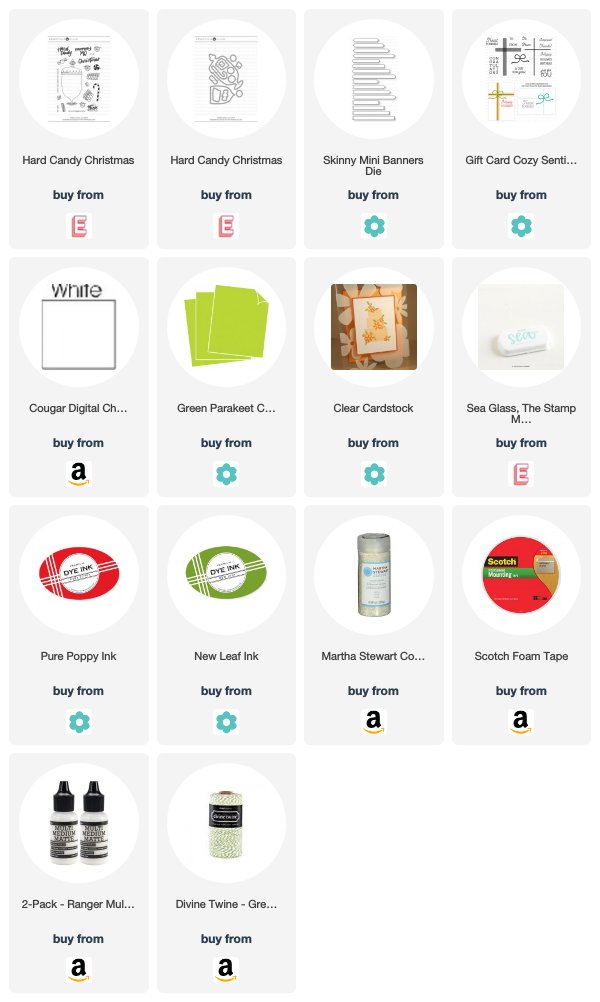 Stamped Ribbon Tags