Good morning, everyone, and welcome to this month's Papertrey Ink Simple To Spectacular feature!
Melissa
,
Lexi
, and I are going to be sharing
Pedal Pusher
projects with you today. The Simple To Spectacular challenge has absolutely become one of my favorite new features this year and Pedal Pusher is a perfect set for this process!
The
coordinating die collection
offers so many creative possibilities. I had so much fun adding unique details on each progressive project and I still can't decide which I like best! Let's take a closer look at my projects!
Here's my "simple" project. I began with this one (not always the case) and decided to let it sort of guide the layout and design of the whole series. I liked the idea of the bike bleeding ever so slightly over the edge and of having the sentiment framed a bit.
I began by sponging and speckling the Aqua Mist ink on the card front before stamping the rest of my scene. I used Simply Spring Borders to add the grass, double stamping (once in Prairie Grass and once in Olive Twist) to add a bit of depth. I chose Pure Poppy for the bike itself and Smokey Shadow for the tires. The basket is a mix of Fine Linen and Classic Kraft and the flowers are Harvest Gold.
Once my scene was finished, I impressed one of the Keep It Simple Frames into my card front using an impression plate sandwich. Then, I stamped my sentiment using Olive Twist. I like that the green is a bit softer than using Smokey Shadow or Black, but still strong enough that it doesn't get lost.
Next up I have my "intermediate" project. I followed the same basic layout, but added a stitched layer and some Bitty Big paper to add interest.
I used a Noted: Simply Stitched layer as the base for my scene. Rather than stamp my bicycle directly on the focal layer, I chose to die cut it and pop it up with foam adhesive, giving dimension. The stitches add a charming, homespun detail.
I used the same embossed frame on this version, but let the sentiment bleed off the edge a bit. The Bitty Big: Spring Moss is nice and light, yet coordinates well with the yellow-greens that I used in my stamping. Sometimes I really like to use products that complement each other rather than exactly match. It keeps the design from feeling too flat.
Last but not least is my "spectacular" card. I added a contrasting mat and real stitching to amp up the texture of this version. I also went with the more involved die set that allows for real, spinning tires on the bicycle. That interactive detail is so much fun!
On the recent Release Party Live broadcast, I mentioned that I love Betsy's Noted: Simply Stitched die collection because my real stitching sometimes comes out a little caddywhompus. While that's still very much the case (don't look too closely - ha!), I do love the texture it can give to a project and that's why I decided to whip out the ol' needle and thread here.
I also wanted to give the sentiment a little more visual weight, so rather than emboss the frame, I decided to actually die cut it from the scene after my background was complete. Then I added die cut layers beneath it and inlaid it back into place to give it some heft.
In addition to the interactive bicycle tires, I also embellished the flowers with a few spots of crystal glitter. The sparkle is subtle, but it gives a nice touch of shimmer in the light. I also love that the strong contrast of the Olive Twist mat. It has a distinct grounding effect on the focal layer.
Well, that's all I have for you today. Make sure to pop in on
Melissa
and
Lexi
to see how they've tackled this month's challenge and I'll see you again soon. Have a great day!
Supplies:
Simple: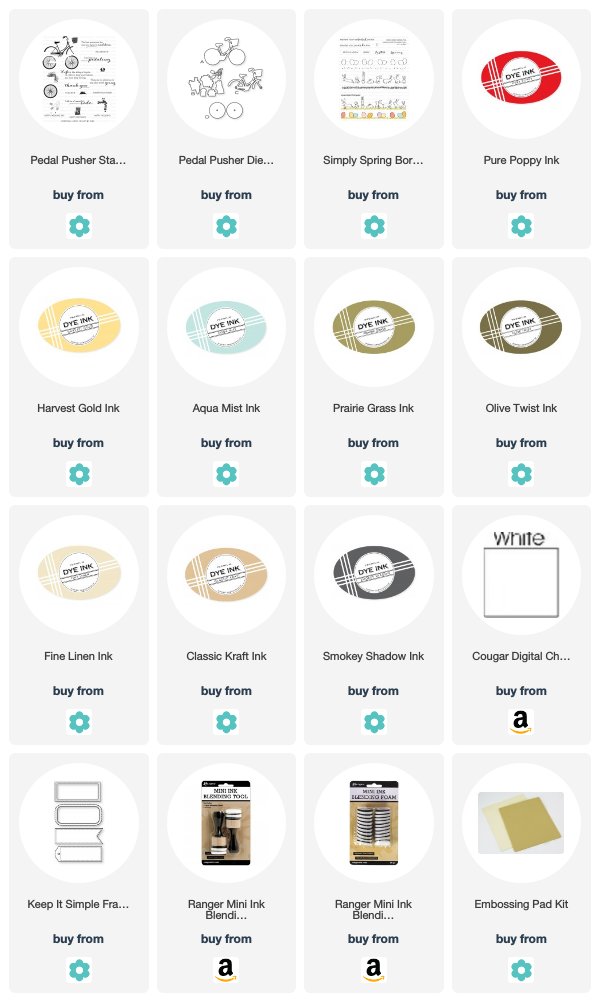 Intermediate: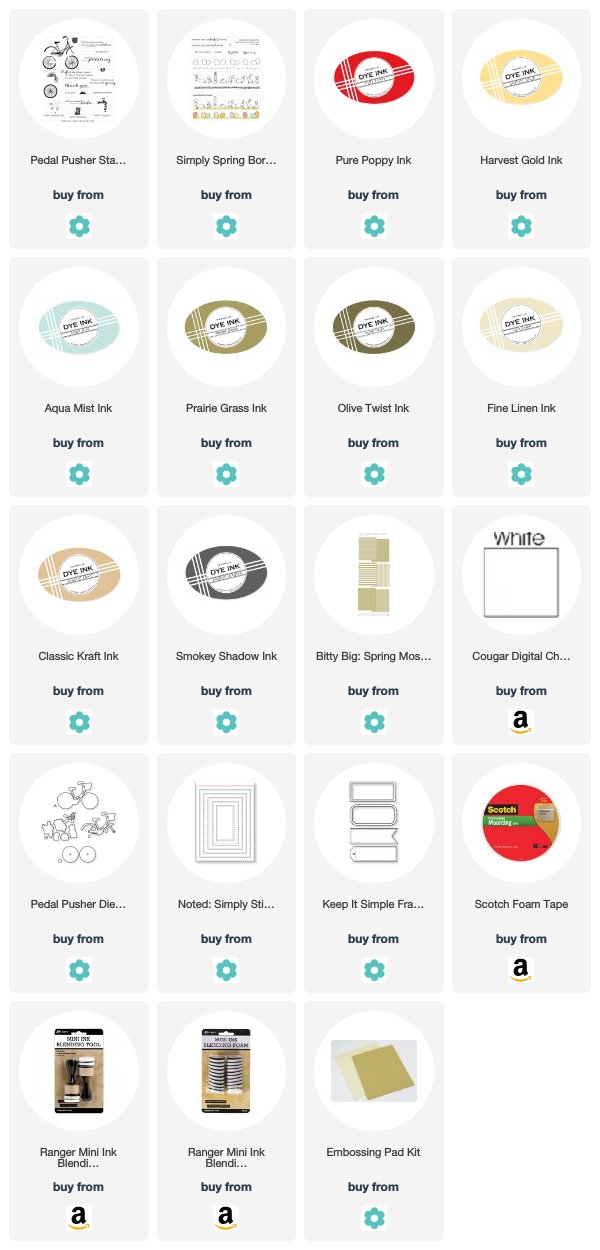 Spectacular: