Good morning, friends! I was talking to a friend about Impression Plates recently and she noted that she doesn't own any or even know how to use them. I was floored! I love not only the Impression Plates, but also Cover Plates and even stencils for adding delectable textures to my projects. Papertrey has such a fantastic selection of styles, ranging from nature-inspired to clean and modern to touchable textiles that there's truly something for everyone. I wanted to share a few of my favorites today just in case there are others out there, like my friend, who have yet to acquaint themselves with these fabulous tools.
Let's start by looking at the Impression Plates since that's where this whole thing began. This card would have been perfectly nice without the added texture, but the woodgrain really puts it over the top.
I began by die cutting three oval windows into a panel of white cardstock using the small oval tag from the Petal Box Die. Then, I used the Woodgrain Impression Plate to add texture. I did this by running the plate through my Cuttlebug with the Embossing Mat Kit and the metal shim.
My sandwich reads as follows: (bottom) A Plate, Metal Shim, B Plate, Woodgrain Impression Plate, cardstock, Embossing Mat Kit, B Plate (top) You can find Papertrey's Impression Plate Compatibility Chart
HERE
if that is helpful.
After adding texture, I mounted the textured panel to a white card base that I had already outfitted with a piece of Soft Stone patterned paper. Then, I stamped and die cut images from Brilliant Baubles to fill each window.
I also heat embossed the Keep It Simple: Season's Greetings sentiment onto a Ripe Avocado banner and adhered it over the center window. The woodgrain texture complements the nature imagery here and reinforces the theme.
Here's a list of my favorite Papertrey Ink Impression Plates. I really like that they're more subtle than embossing folders, yet give plenty of texture to make a big difference.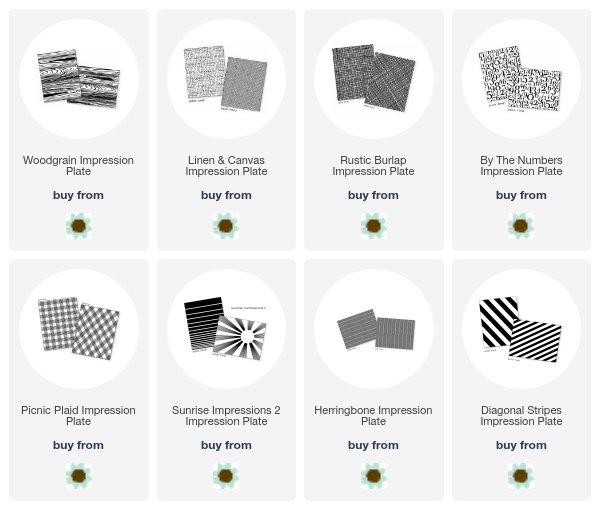 Next up, let's talk about Cover Plates. Sure, you can die cut with them. But they're also wonderful for adding deep, crisp texture to your projects. All you have to do is use the same sandwich as you use for your Impression Plates.
On this project, I decided to flip the script a little and use the back of the impression rather than the front on my project. That's another fabulous feature of using the Cover Plates to add texture. They give such beautiful, deep impressions that both sides look gorgeous!
I began by die cutting my Wine Bottle Tag #2 Die from White cardstock. Then I stacked my impression sandwich in my Cuttlebug and ran it through. The only difference this time was that I took care to line up my top B Plate at the point on my wine tag where I wanted the pattern to stop (rather than cover it completely). That allowed me to selectively add my texture.
Then, I sponged a bit of Aqua Mist ink lightly over the pattern to make the details pop a bit. I heat embossed my Christmas Cuts sentiment onto Green Parakeet cardstock and backed it with Bitty Big: Pure Poppy paper. I used foam tape to adhere it to the tag. Simply gorgeous!
Here are a few of my favorite Cover Plates. I turn to these over and over again, not only for impression projects, but die cutting projects as well.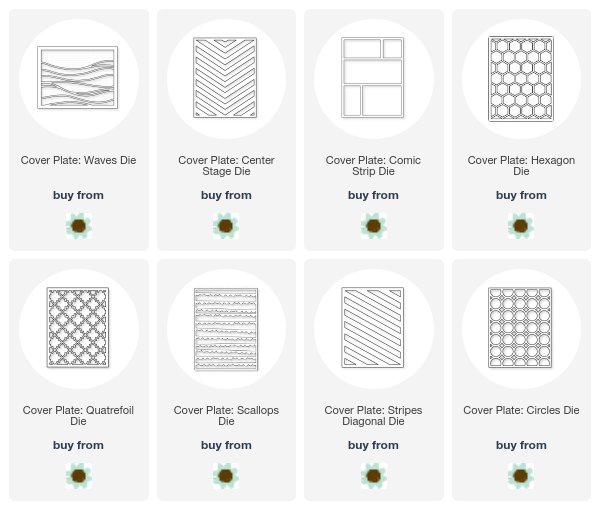 And last but not least, that brings us to Stencils. Obviously, stencils are great for applying ink, embossing paste, etc. in a pattern onto cardstock, but did you know you can use them to add physical texture too? It's true!
On this project, I wanted to enhance the texture by adding an ink color. I was going for high contrast, so I used Fresh Snow ink on Dark Indigo cardstock.
I did this by pouncing my ink pad directly onto the stencil before carefully placing my cardstock straight down onto the inky surface. Then, I simply ran it through my Cuttlebug using that same sandwich.
I adhered that panel onto a white card base and then added a decorative panel I cut using a To The Point Edgers die. I'd used the Big Hugs stamps and die to add a sentiment and stamped paper to add a contrasting edge. I also added a glittered banner cut using the Make It Market Mini Kit: Clipsters die. I cut it from White Adhesive Sheet and glittered it with Sterling glitter before tucking it under the sentiment panel.
Here are a few of my favorite Stencils (or kits including stencils). You probably have some of these in your collection. Give them a try and tell me what you think!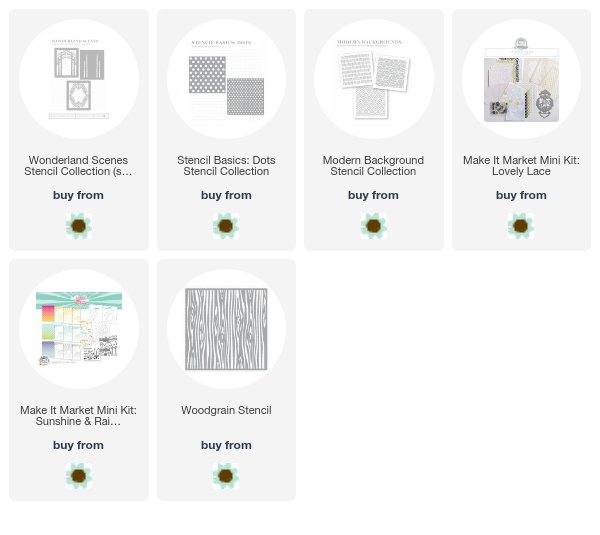 So there you have it, friends. Three different projects featuring just a few of the options you have for adding texture. I hope you've enjoyed today's post! I'll see you again soon!
Supplies:
Woodgrain Season's Greetings Card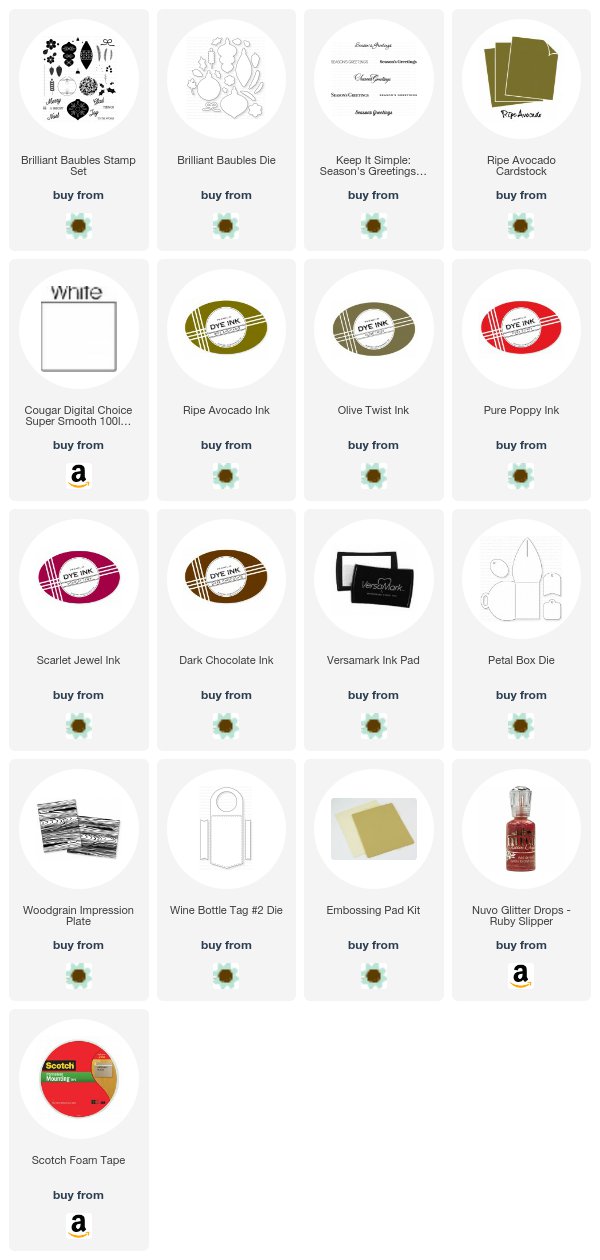 Christmas Hospitality Wine Tag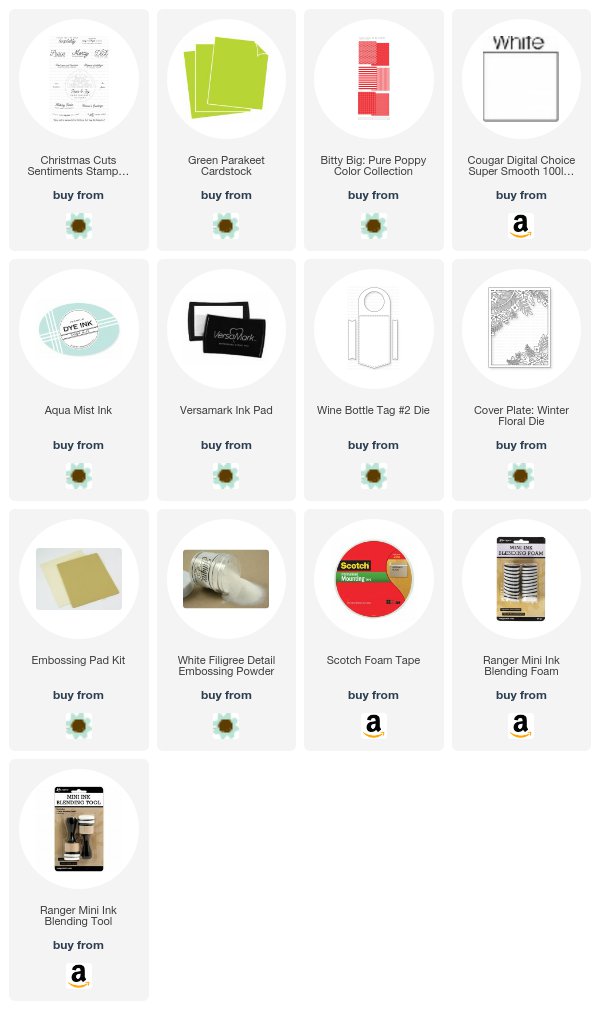 Lace Sending Hugs Card