Good morning, friends! I'm popping in today with a
Papertrey Ink
Design Team Tip just in time for Christmas. The holiday season gets busy quickly and sometimes that means things slip through the cracks a little bit. For me, one of those things tends to be gift cards. I don't get excited about giving them, so they're often the last thing on my mind when it comes to packing them up and making them feel special. So I'm sharing some of my favorite ways to package a gift card quickly and easily while also making the recipient know I cared enough to get them something they would truly enjoy.
Let's get started! First up is a dual purpose gift card holder. Not only does it keep a gift card nice and secure, but it acts as the tag for a package as well. Bonus!
I began by die cutting a Gift Card Cozy from Green Parakeet cardstock. Then, I used the
Bookprint Alphabet
dies to add in the name. If you have someone with a longer name, I suggest the
Headline Alphabet
,
Smooth Alphabet
, or
Modern Alphabet
to give you a similar effect.
I backed the opening with Bitty Big: Pure Poppy patterned paper and inset the letter negatives before assembling the Cozy. Then, I stamped the Gift Card Cozy Sentiments greeting on the back flap with Pure Poppy ink. It's really just that simple.
All there was to do was tuck the gift card holder beneath the ribbon on Pop's gift. It may not seem like a big deal, but even personalizing gift card packaging with someone's name can make it feel more special.
Supplies: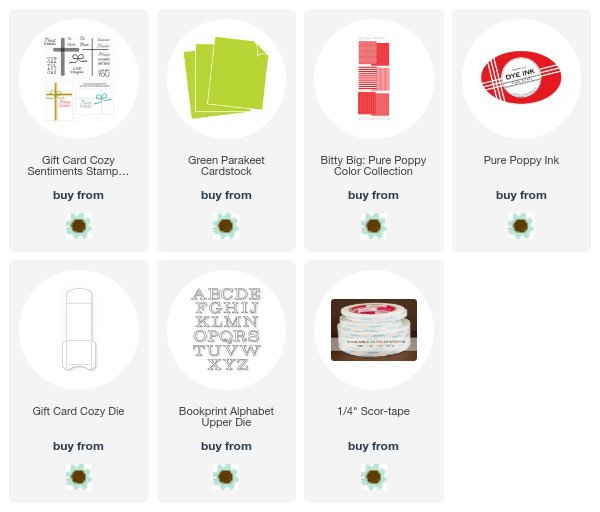 Next up is a petal box that comes together in mere minutes, but gets a boost of simple style with the help of patterned paper.
I began by die cutting the Petal Box from Bitty Big: Pure Poppy paper. I assembled it as normal, leaving one side open while I stuffed the box with a gift card and a handful of candies. Again, it may not seem like much, but using a few of your recipient's favorite candies as box filler is a great way to sweeten the whole gift card experience.
All that was left to create was the tag. I don't believe you have to go over the top on tags for small gift boxes like these. I simply die cut two tags (this tag shape comes with the Petal Box die), one from white and the other from Green Parakeet.
I stamped the white tag with the Christmas tree cookie from Sweet Holiday Wishes and a sentiment from Gift Card Cozy Sentiments. On the Green Parakeet tag, I stamped the "To:/From:" from the same set. Then I just tied the tag to the box handle with baker's twine. It's a cute presentation and it took maybe ten minutes to create.
Supplies: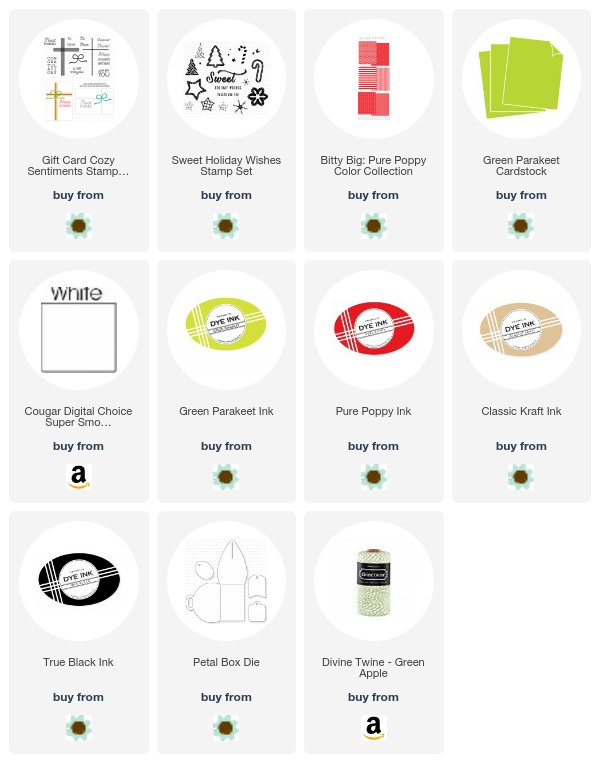 My last box pairs plain cardstock with a stencil to get a package with festive pattern super quickly.
I began by die cutting the Gable Box from Dark Indigo cardstock. Then I used Fresh Snow ink to stencil on the Snowfall Style pattern. I assembled my box as normal, again filling it with candies and a gift card.
To dress up the box a bit, I xyroned a piece of white cardstock and die cut it with the Snowfall Style 1 die. I glittered that snowflake and adhered it to the front of the box. Then, I stamped my recipient's name onto a banner (this one is from the Wine Bottle Tag #2 Die, I just shortened it a bit by double cutting one of the ends). I used
Fresh Alphabet
, but the
Antique Alphabet
is another favorite of mine for this purpose. I added the banner with foam tape and the box was complete.
Supplies: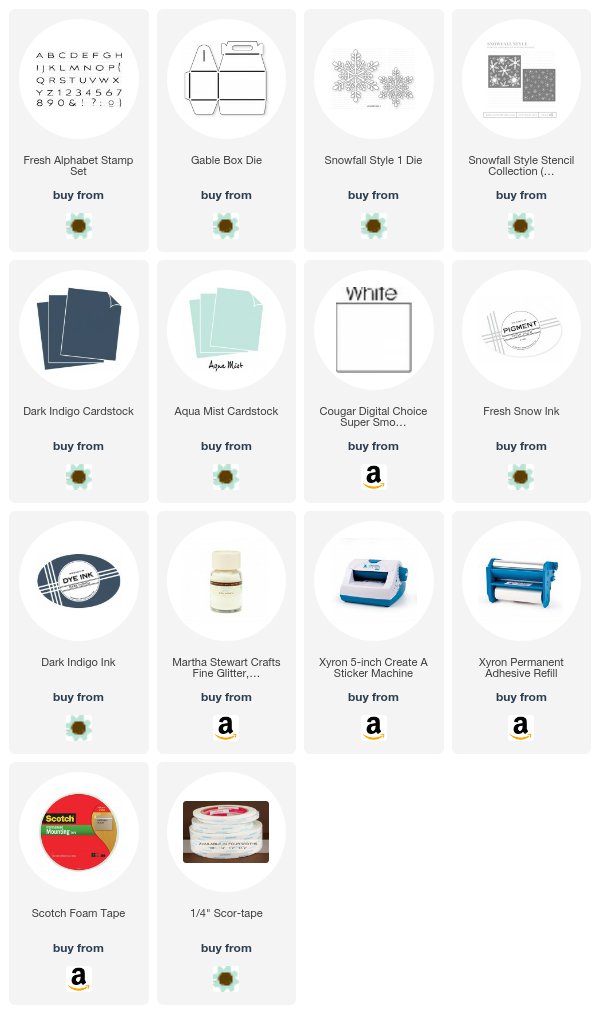 I think it's important to make presents feel personal at the holidays, even if that present is a simple gift card. That said, I don't think you have to go crazy and give yourself a hard time to make that happen.
A little patterned paper, a customized tag, and maybe a touch of sparkle can go far in giving your small packages a big presence under the tree.
Happy Holidays, Merry Christmas, Season's Greetings, Happy Hanukkah, and Happy Kwanzaa to all of you. I wish you the very best this holiday season and I hope you and yours share good health, togetherness, and hope for a wonderful new year in the days to come. Until next time!